9 blockbuster movies promise to break the 2020 revenue: Marvel continues to raise money, but the world is holding its breath waiting for Christopher Nolan to "launch"
Although 2020 does not have the blockbuster "sure" billion like Marvel's Endgame, but it is full of surprises. Especially the re-export of legendary director Christopher Nolan.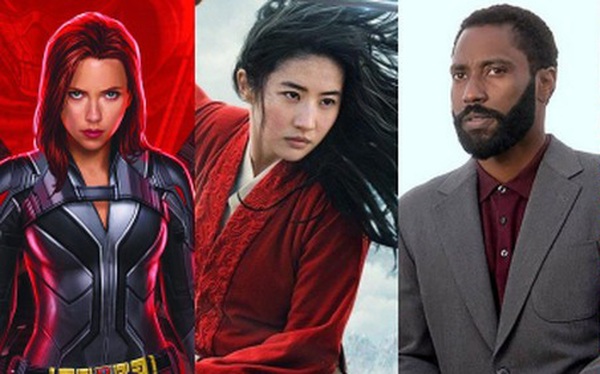 In 2019, the world cinema industry witnessed a sudden drop in box office, so much that Endgame blockbuster could not save. The more the number of movies that are released in theaters, the more the "bomb" is thus increased. However, not so that the theater lacks other "interesting and genuine" names. In 2020, up to 10 prominent blockbusters are expected to "make things" in theaters thanks to a strong fan base.
1. Black Widow (1/5/2020)
Right from the launch of the project, Marvel made fans curious because "suddenly" made a movie for Black Widow. Remembering before, she had sacrificed herself in Endgame, causing fans to "look night and night". However, it may be because of that curiosity that the audience pays more attention to the movie. Reportedly, this particular movie will recreate the period before the snap of Thanos. And certainly, without taking action without money, fans will be pleased with her "sword fighting" again!
2. Antebellum (24/4/2020)
3. Eternals (6/11/2020)
If Black Widow is interested in a widow's past scenario, then Eternals is intrigued by the newness and diversity. Besides, the appearance of star Angelina Jolie and multi-racial star is also a plus point for fans. Attractive script, colorful variety, and above all new, what's stopping Eternals on the billion dollar road?
4. Godzilla vs. Kong (20/11/2020)
If you fell in love with the mighty Godzilla in King of the Monster earlier this year, or fell in love with Kong in Skull Island, then the following special "crossover" screen will overwhelm you. A heroic screen unprecedented on screen. In particular, Kong: Skull Island was so familiar to Vietnamese audiences due to the scenes shot in the mountains of Quang Binh. Therefore, Vietnamese audiences gathered to the cinema to watch it is not surprising, right?
5. Venom 2 (2/10/2020)
Venom was interesting, now even more colorful when Tom Holland small Spider will most likely have a "cameo" fly. Remember earlier, the film was expected to "flop" when announcing the project, suddenly jumping into the top-selling movies of all time. Despite criticism surrounding violence, Venom 2 is set to hit theaters and promises to be a hit for this year's film industry.
6. A Quiet Place 2 (20/3/2020)
If there is a good idea, even though the budget is low, a hit thriller is still created. The proof is that Paramount and A Quiet Place Part 1 have done a great job of this. Continuing Part 1, Part 2 of the film follows Emily Blunt as she struggles to protect her children from harm from blind creatures. The film promises to surpass the previous installment with more than $ 350 million.
7. Wonder Woman 1984 (5/6/2020)
Big sister has come back and more dangerous than before. Wonder Woman can be said to be the typical but very good representative from DCEU this year. With a very nostalgic context, Wonder Woman promises to be a film that gives young people a new breeze in a turbulent year. And of course, the revenue will certainly "quite", highly likely to join the billion dollar club.
8. Dune (18/12/2020)
The project cherished a decade of preparation to hit the floor in the new year 2020. This is a live-action film, based on the famous novel of Frank Herbert and performed by the hand "labyrinth" of Blade Runner director. 2049. The film is so expected that Part 2 has planned in detail, just waiting for heaven, earth and peace. In addition, stars Timothée Chalamet, Oscar Issac, Rebecca Ferguson, Zendaya, and Jason Momoa will make the film sublime, making it a billion-dollar list.
9. Tenet (17/72020)
Till this time, Tenet is a secret film from the famous director Christopher Nolan. Wondering about the movie, Tenet still deserves to be the most anticipated work in 2020. With the appearance of duo John David Washington and Robert Pattinson, the film is predicted to be in the top of the movie. New Year guests.